Dr. Sean Weber, DMD
Dr. Weber is an enthusiastic and caring dentist with a broad and diverse skillset. He offers cosmetic and family dentistry for all ages; Invisalign orthodontic treatments; denture design and fabrication; oral surgery, and more. He is an active member of the Canadian Dental Association (CDA), the American Dental Association (ADA), the Ontario Dental Association (ODA), the Toronto Crown & Bridge Study Club, and the York Region Dental Study Club. He is also registered and in good standing with the Royal College of Dental Surgeons of Ontario (RCDSO).
Dr. Weber was born in Toronto, Ontario, and grew up right here in Richmond Hill. He attended Lake Wilcox Elementary School and Richmond Hill High School. He received his Bachelor of Medical Science degree (BMSc) with Honours from the University of Western Ontario in 2010, and his Doctor of Dental Medicine degree (DMD) from Case Western Reserve University in Cleveland, Ohio in 2016. For the past 6 years, Dr. Weber has been treating patients at a family dental clinic in Aurora, Ontario. He is very excited to join the Richmond Hill Village Dental team, and he looks forward to serving the community for many years to come by providing quality dental care to all of his patients.
In his free time, you can usually find Dr. Weber hiking the York Region Forest Trails with his wife, Waisum, and their 1-year-old Samoyed dog named Tofu. Dr. Weber loves to take on repairs, renovations, and 'DIY' projects around the house. One of his favourite hobbies involves restoring and repairing historic vehicles. However, he is happiest when he is spending quality time with his family and friends… and Tofu.

Dr. Josephine Leung, DDS
Dr. Leung is passionate about dentistry and is currently a member of the Ontario Dental Association, Toronto Implant Study Club, York Region Practical Dental Study Club. She is also actively attending continuous education courses to stay current with the new technology and developments in the dental field. She has attended many courses on cosmetic dentistry; implant dentistry, periodontics (gum disease), and management of temporomandibular disorder.
Dr. Leung completed high school in Thornhill after immigrating to Canada from Hong Kong in 1993. She received her B.Sc. (with high distinction) from University of Toronto in 1998, and her D.D.S. from the University of Western Ontario (with honours) where she also received the "Dr. Walter R. Teteruck Award" in Fixed Prosthodontics in 2002. Dr. Leung had been practicing in St. Catharines, Ontario for 4 years before coming to Richmond Hill in December 2006.
Dr. Leung enjoys the outdoors (hiking, camping, canoeing) and cooking during her leisure time. She is fluent in English, Cantonese and Mandarin.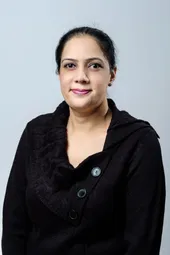 Paramjeet S.
Registered Dental Assistant (Level II)
Andrea M.
Front Desk
Registered Dental Assistant (Level II)